Marinet Co., Ltd.

Marinet Co., Ltd.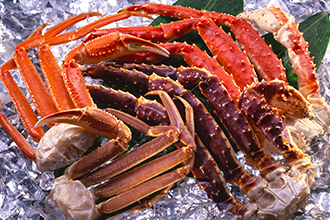 Our company name " Marinet " is connection between 「Marine」&「Network」

Marinet Co., Ltd. have many professionals who are familiar with crabs and other seafoods, and we have consistent supply chain from purchasing to importing & processing by make full use of their information networks around the world.
Crab business division(Snow Crab, King Crab, and other crabs)
Our integrated supply chain from purchasing carefully selected crabs all over the world to processing & sales make it possible to respond instantly to customers' needs and making optimal proposals and receiving orders. In addition, in collaboration with our group company TM Foods Co., Ltd., & Vietnamese company, we can flexibly respond to requests from size selection to shell peeling processing. Under strict quality & high hygiene management, we will deliver safe and secured high quality crabs.
Seafood processing division (Trout Salmon and other seafood products)
We mainly purchase Trout salmon from the republic of Chile and process into Sushi products at our corporative factories in Vietnam which have high hygiene standard (for raw eating standard towards Japan market). In recent years, we have begun handling Alfonsino and "Kinka saba" (Japanese Brand Mackerel admitted as top quality), and we are taking on the challenge for expanding the range of processing such as seasoned & cooked products.